What are the Shoulder Instability Treatment options?
Depending on the type of injury caused by the instability events, Professor Moran can chose from two procedures to restore stability to the joint, including a Labrum Repair and Laterjet Procedure.
Conservative Management
Depending on an individual's activity level and injury history, conservative management might be suitablethrough extensive physiotherapy and rehabilitation. For first time dislocations without bony injury, rehabilitation is usually the preferred first line treatment. We will provide a report following your assessment for your physiotherapist to guide your rehabilitation.
Your physiotherapist will guide you through a progressive rehabilitation programme to strengthen the structures around the shoulder joint. Unfortunately, shoulder instability is associated with a high rate of recurrence, particularly in young, contact athletes. If rehabilitation fails to bring about improvement in function and comfort, Professor Moran will discuss the available surgical treatments.
Labrum Repair
A labrum repair is a soft tissue fixation done through an arthroscopy (key hole) approach and is often the preferred approach for younger patients (<17/18yrs) and non-contact athletes without bony injury. Detached labrum's or labrum tears can be reattached to the bone through the use of suture anchors. These anchors are inserted into the glenoid bone arthroscopically through small incisions. Each anchor has a suture that is used to reattach the labrum back to the bone. Multiple suture anchors are used to hold the labrum in place and to tighten the injured shoulder joint. See the animation below for this procedure.
Latarjet Procedure
The Latarjet procedure is a bony fixation surgical procedure performed through an open approach (small incision to the front of the shoulder) instability by relocating a piece of bone with an attached tendon to the shoulder joint. The Latarjet procedure is indicated for recurrent anterior shoulder instability that is caused by a bony Bankart lesion which is an injury to the anterior glenoid labrum. The procedure includes an open incision to the front of the shoulder.
The goal of Latarjet is to reinforce the shoulder joint with additional bone block to hold the head of the humerus within the shoulder socket more securely. The bone block comes from the part of the scapula (shoulder blade) called the coracoid. Professor Moran removes the coracoid from its original attachment site and moves it a few centimetres forward, to the front of the shoulder socket. Once in place, the coracoid is screwed into the shoulder socket. View an animation of the procedure HERE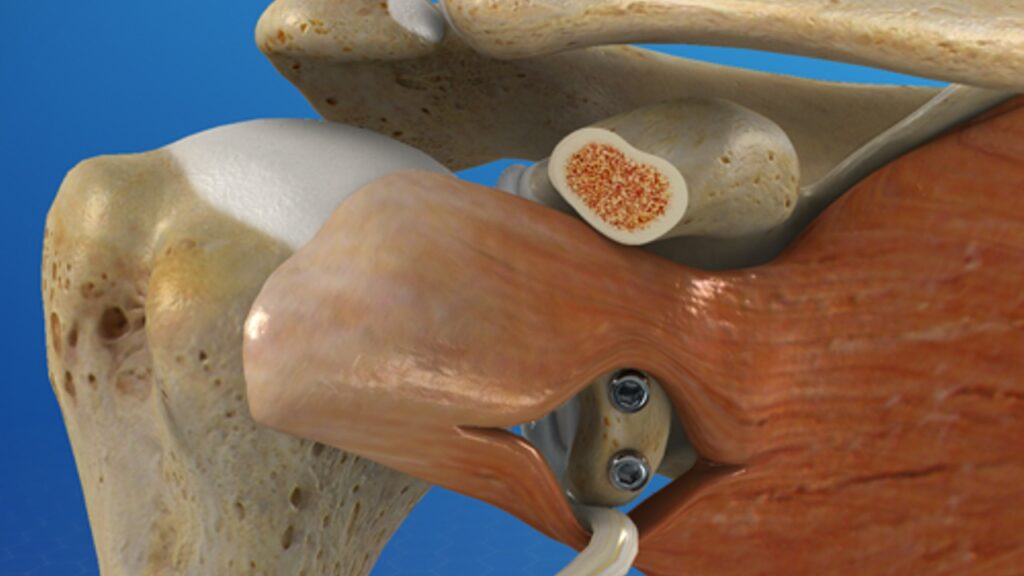 What happens after surgery?
Patients are provided with a sling after surgery and a physiotherapist will visit you before you are discharged from the hospital to give you exercises. You will wear a sling for about 3 weeks. During the first 4 weeks you will have a limited range of motion whilst the structures in your shoulder heal and will have to avoid stretching the shoulder.
You will have a review appointment with Professor Moran's clinical team 3-4 weeks after surgery to review your progress. As we are a specialist practice in the management of shoulder injuries, our specialist team will monitor you at different time points throughout your rehabilitation journey. You will also meet with our specialist team at approximately month 3 or 4 with isokinetic testing. This is a lab based strength test to identify any weaknesses, based on these results Professor Moran will make recommendations for your rehab programme. You can find out more about the SSC Shoulder Lab HERE.
Progressive strengthening is essential for safe return to play after a shoulder stabilisation procedure. Your physiotherapist will guide you through a rehabilitation programme to prepare you for return to play. Research evaluating the outcomes of the Latarjet procedure in collision athletes, has reported high rates of return to play with low recurrence rates. When coupled with a progressive rehabilitation programme, patients report successful outcomes with minimal risk of reinjury.
References
Hurley, Eoghan & Montgomery, Connor & Jamal, Muhammad & Shimozono, Yoshiharu & Ali, Zakariya & Pauzenberger, Leo & Mullett, Hannan. (2019). Return to Sport After Surgical Treatment for Anterior Shoulder Instability: A Systematic Review. The American Journal of Sports Medicine. 47. 036354651983100. 10.1177/0363546519831005. Olds M, Ellis R, Donaldson K, et al Risk factors which predispose first-time traumatic anterior shoulder dislocations to recurrent instability in adults: a systematic review and meta-analysis British Journal of Sports Medicine 2015;49:913-922.